Trust

God

from the bottom of your heart;

don't try to figure out everything on your own.

Listen for

God

's voice in everything you do, everywhere you go; He's the one who will keep you on track.
Proverbs 3:7- MSG

I get this question asked a lot-
"Do you think Bethany will ever live independently?"
Two scriptures in the Bible compel me to reply:
"I hope not."
What? You gasp! Why ever not?
The simple answer is I believe God created each one of us to live in community with others.
Genesis 2:18 shows us God saw it wasn't good for man (humankind) to be alone. And Psalm 68:6 reveals that God never wants His children to be lonely - "God sets the lonely into families."
My desire for Bethany (as all for all our children) is this:
to live in dependence on God for wisdom,
with a healthy interdependence with family, friends, and community.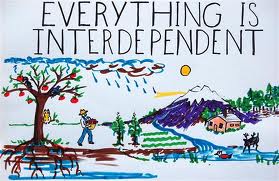 Bethany's 15 now. I'm beginning to see that total independence is NOT the end goal for anyone.
s
Learn new skills? Yes!
Try new things? Yes!
Be self-initiating? Yes!

Yes!!!
But total independence is a goal no one reaches. No man is an island - no man walks alone.
Interdependence is the foundation of life - we were created for reciprocal relationships - each giving another person something unique and complementing the other.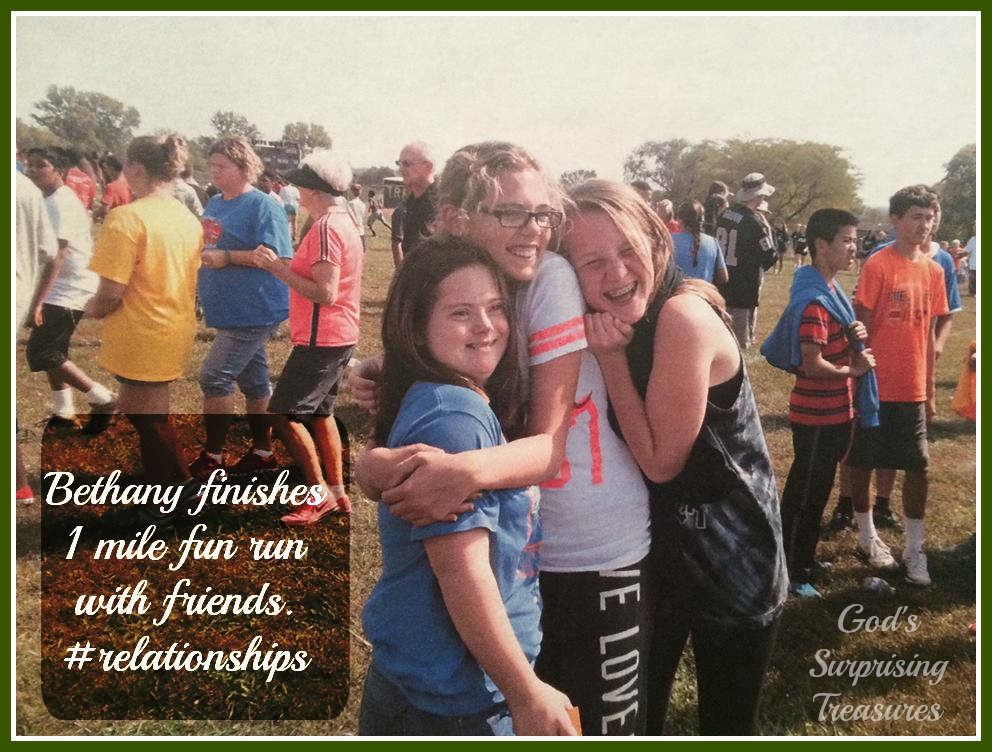 Bethany finishes 1 mile FUN RUN - thanks to encouragement of her friends!
Relationships and friendships seem to be a bit more complicated when I compare Bethany's life to our other kids social lives - BUT we're figuring out how to help Bethany balance independence with interdependence.
We all have strengths and weakness. Sometimes you're the "giver"- sometimes you're the "receiver". It's not a shameful thing to admit you need help.
At the end of last year, Bethany began asking if she could do school by herself - without a paraprofessional following her around.
s
I get it. I really do. She's a teenager and wants to be like the other kids, and she doesn't want to feel like she has a babysitter taking her from class to class or hovering over her. Her teachers and school staff got on board with it and said, "Let's try it and see what happens." (pretty cool if you ask me)
At the beginning of this school year, Bethany had NO paraprofessional support. Every class and club was being done independently! She was ecstatic.
Six weeks into school this fall, we had our first IEP meeting. I was anxious to hear how her teachers thought it was working for her.
The responses were mixed. Three teachers said she did great without the support of a paraprofessional. All teachers said she did great with class transitions, clubs, lunch time, and with her work in the office the last period of the day. Yay!!
e
However, one teacher noticed that she was not as confident in her class this year as she was the year before, struggled with some of the assignments, and was not asking for help when she needed it.
After we talked at the IEP meeting today, we came to the conclusion that she could remain free of a paraprofessional in all of her school day

but she needed to accept para support in her Drama class.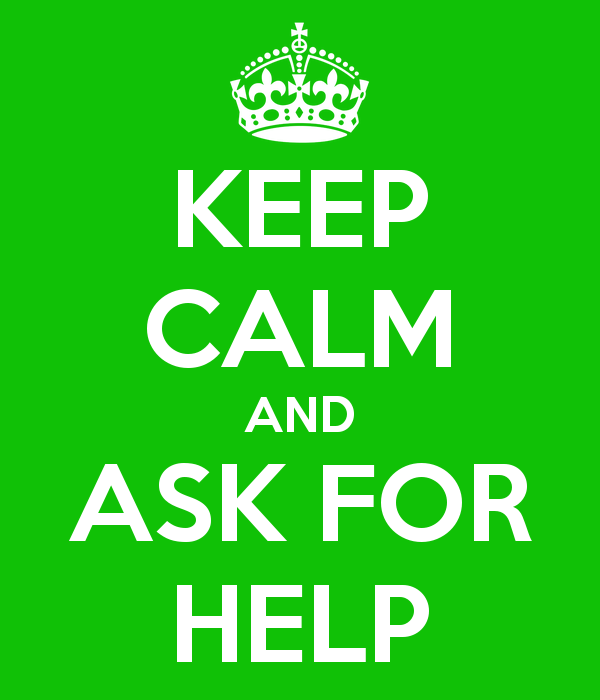 It's interesting – (perhaps the correct word is "complicated") We try to explain to Bethany that we're proud of her independence, BUT she needs to be gracious and accept help in the areas that she is struggling. Her constant response - "I don't need a para anymore. I don't need help. I can do it by myself!"
Bethany's "pride" in being independent is a bit of a stumbling block for her accepting help.

As I try to help her understand that "everyone" needs help sometimes, it dawns on me my pride pushes me into the same rhetoric.
I don't like to ask for help. I don't like to appear weak or needy.
But life is full of unknowns, transitions, new challenges, and tiresome burdens. And as I get older, I realize how much help I really need.

I DAILY need God's help to have any semblance of peace and joy.
s
I need my husband's opinions, wisdom, support, love, and respect.
s
I need my family's input, love and sweet presence.
s
I need my church family to encourage, and support, and care for me.
I try to explain - complete independence is impossible. We need God - and each other.
Learning to be dependent on God and asking for help when we need is the foundation of living.
In fact, I believe God purposefully created interdependence into our relationships and all of creation!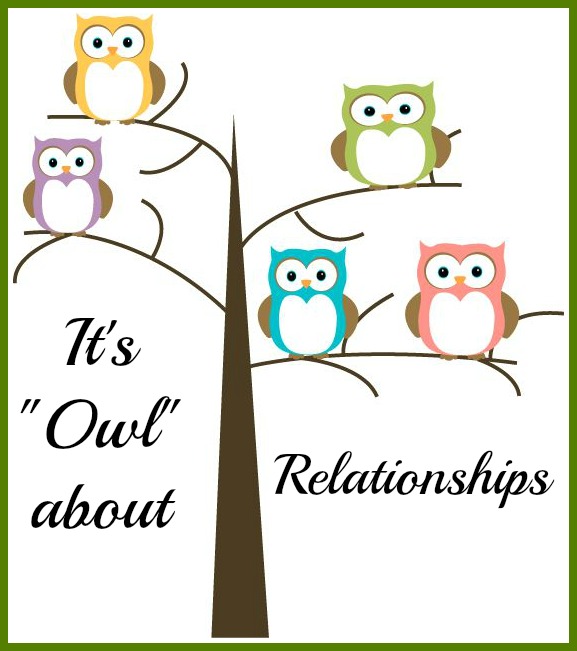 Bethany finally smiles as I explain for the umpteenth time that she will be having a para help her in drama class from now on.
s
Her final response with a sigh and a roll of her eyes, "OK, Mom, if that will make them feel better. I will let them help me but sometimes I need help and sometimes I do not."
Growing to be wiser and learning to ask for help -
Cindy
Our Prayer - Father - we NEED you. Thank you for all the help and guidance you freely offer. Thank you for the people you put into our lives to compliment and teach and help us through life. Don't let pride keep us from asking for help. In Jesus Name - Amen!
Cindy Barclay