"When they came together....they rehearsed all that God had done and how He had opened the door of faith."
One of the first keys to helping Bethany succeed was "rehearsing". You know- repeating, reiterating, review, study, and doing a new skill or word over and over and over. :)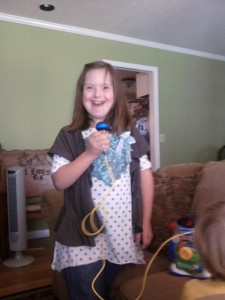 Bethany rehearsing her spelling words via microphone :)
Learning became easy when I realized all I had to do was be patient- teach and repeat. A lot.
But rehearsing facts and playing out situations have opened the doors of learning for Bethany- and still does to this day.
We've learned this not only in "home school", but in her dance classes, and piano lessons.
There is a most exciting new adventure is coming up! She got a small dancing part in The Wizard of Oz at her Middle School. Oh, the twinkle in her eye as she proudly invites everyone to come see "her" play. LOL
She has a lot of after school practices to rehearse with her play mates. We even had to sign a contract for her attendance because her teacher knows from experience- rehearsing brings success.
I've found this principle especially true in my faith life.
When I declare, repeat, meditate, practice, do over and over; when I rehearse God's Word daily- I'm primed to succeed and overcome life's challenges!
"Rehearsing" God's truths brings confidence, an excitement, an assurance, a unity, and it opens the door to faith. Because faith comes by "hearing" and hearing comes by the Word of God! (Romans 10:17)
Instead of letting my brain or mouth rehearse my problems or the bad parts of my day, I'm learning to intentionally rehearse the goodness of God and become more aware of how He is constantly working in my life.
So whether you have special needs- or not- the world is watching and listening- our life is God's stage to show forth His glory. We only live once- let's live rehearsing God's good words to us!
Prayer: Dear Father and Lord of All, We thank you, you've given us Your precious Word to rehearse Your will and Your wisdom. Give us a heart that hides Your Word, speaks Your Word, and does Your Word. In Jesus Name, Amen.
Cindy Barclay