"The Lord appeared to us in the past saying,
"I have loved you with an everlasting love;
I have drawn you with loving kindness."
I don't know when it all started, but Bethany began randomly asking me throughout the day,
"Mommy, do you love me?"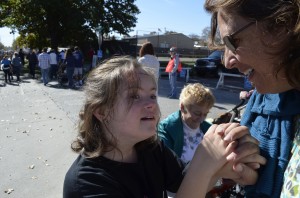 It startled me at first because I try to tell my hubby and kids a LOT that I love them.
Hmmm- I placed my hands on her cheeks, making sure she had full eye contact with me, and then I said with a huge smile, slowly and very emphatically,
"Of course I love you Bethie. But I not only LOVE you- pause- I adore you!"
Oh, I wish you could have seen the delight shining from her eyes! The little giggle of embarrassment. The jig of glee & excitement!
"Awwwww Momma, thanks!"
and then, away she went,
filled and complete in the knowledge of unconditional love.
This little scenario happens at least once a day, usually at bedtime, or after school, or on our way to school, but it has to be played out with sincerity and passion- like it's the first time I've ever heard her ask. I always respond like it's the first time I've ever said it.
I'm pretty laid back and rarely get impatient with Bethany. The other day was the exception. I can't even remember what she did but I said with some irritation, "Bethany, you need to listen better and obey."
Her eyes popped open wide and filled with tears. Her face looked stunned as she stuttered,
"Bbbbut Momm- Dddo you ssstill love me and aaa adore me?"
My irritation was instantly replaced with overwhelming love- God's love! I just wanted to literally pour love in her little, questioning heart! I didn't want her to have one shred of doubt that she is loved because she is mine!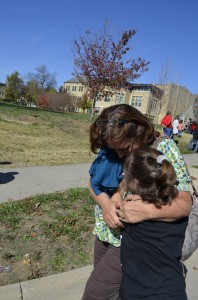 "OF COURSE BETHANY! I not only LOVE you and ADORE you—– I will ALWAYS LOVE you and ADORE you!"
Pure Relief- then the shining delight in her eyes. The giggle of embarrassment. The little jig of glee and excitement!
"Awwwww Momma, thanks!"
and away she went, filled and complete in the knowledge and assurance of her momma's unconditional love.
And so it is with God.
We may not verbalize our question to Him-
"God, do You love me?"
But we wonder.
God, do really love me- all the time- in my good and bad moments?
The Bible tells us He loved us before we loved Him!! It promises us that NOTHING can separate us from His love. We're promised that He loves us with an everlasting love and His love never fails.
It is His Father's heart to pour out His unconditional love to His children
. He speaks to us in a million miniscule ways- through the beautiful faithfulness of sunrise and sunset, the sweet fragrance of wild flowers, setting music in all of nature, the stars twinkling His message of creation, people He has brought in our lives to show us love, and His Word and Holy Spirit that reveal His presence and goodness to us, His children.
Even when He has to correct us
; discipline us- guide us- lead us- turn us around to go the right direction- let us face life consequences- even then- we should know- His Father's heart is holding us and saying what I say to Bethany-
"Of course child of mine. I not only LOVE you- I Treasure you—–My love for you will never change- it is an everlasting love that will endure forever."
Pray:
Oh Father. help us believe Your love will not let us go! Open our understanding to how deep and wide, forever and never giving up, Your love is for your children. In Jesus wonderful Name- Amen.