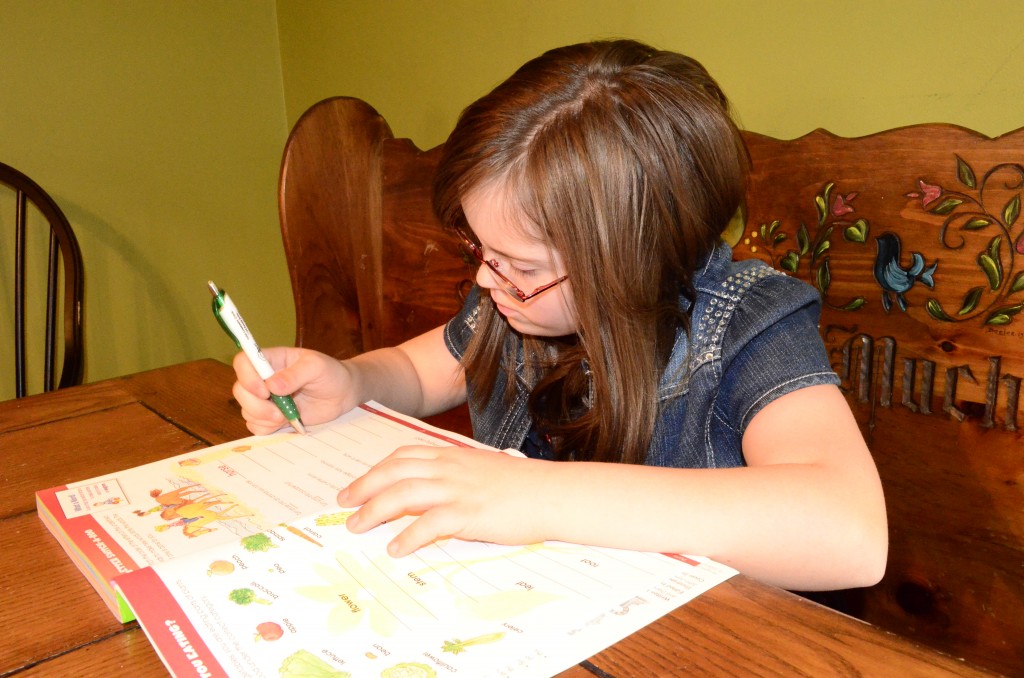 Down Syndrome, Home Schooling and Simple Glory
God chose things the world considers foolish, simple, and humble, in order to shame those who think they are wise and educated. And He chose things that are powerless and weak to shame those who are powerful. God chose things despised by the world, things counted as nothing at all, and used them to bring to nothing what the world considers important. As a result, no one can ever boast in the presence of God.- I Corinthians 1:27-29
"OK Beth. Can you read these all these vocabulary words and use them in a sentence?"
"Sure, Mommy."
She was doing great until we got to a very "simple" word-
Bethany read it and stared at me blankly.
"Can you use it in a sentence?" I said "It means- to talk big. I said in my best braggy voice," like I can do that better than you." or "Look at me- I am so great at that."
Her eyes got bigger. "Oh no, brag is not good."
"Yes, you're right, it's not good to brag about yourself but can you use it in a sentence?"
"No, thank you."
I had to laugh because my girl, Bethie, tells me all the time she's good at things but she is more "celebrating" than "bragging".
Bethany lives a full but "simple" life.
No verbal posturing, no ability to craft words or be disingenuous or complicated. No girly cattiness. She loves all her friends at school and church. She's authentic and uncomplicated.
If she's upset, she tells you. If she's sad, you don't have to guess.
It is her simplicity that is the biggest barrier to depth in friendships: she just can't get "up to speed" with the conversations and flying thoughts whirling around her. It is also her simplicity that gives her a huge capacity to have faith and love.
Her world is uncomplicated, simple, and humble- loving people is her prime directive. Compared to the lofty goals of achieving status and amassing wealth, some might judge her life as lowly in comparison.
She struggles to understand the 100 mph life everyone lives around her while her speedometer is maxed out at 40 mph.The truth is: She won't ever be able to live the 100 mph life.
Her "simple" life used to make me sad if I contemplated it. Sad, because I was focusing on all the "levels and depths" of life I perceived she was missing. But now, I see her as blessed with the gift and glory of "simple".
Now, I ask myself, "Does it matter what "speed" I live life
or is about how well I live it
? Does it matter "how much" I cram into my
day or should I be measuring how much I've shown love each day?
Does it matter in the grand scheme of things how much money I make (or don't lol) or how many degrees I've earned?

Bethany's simple life daily reminds me:
God delights in WHO we are- NOT What we achieve!
So, at least for today, partly in thanks to Bethany, I evaluate my stressful, chaotic, 100 mph life and I choose to embrace simple. For I'm convinced- God's Glory resides in "simple".
PRAY: Father God- help us to live as your child, trusting in Your care and resting in Your love. Unclutter our lives from worry and stress and be grateful for simple blessings.